I'm going to take a little break from my discussion of downtown Phoenix issues and talk about another thing that occupies my life (and is, for all intents and purposes, my "day job"): information technology.  More specifically, I'm going to talk about sustainability within technology.
One of my guiding philosophies on computer purchases is this: How repairable is the machine?  In other words, what percentage of that computer's parts can be replaced by me?  And how easy is it to do that?
Prior to graduating from high school in 2006 and preparing to enter Arizona State University later that year, I received a Dell notebook computer.  That machine is still running strong because I've been able to replace the hard drive, the battery, and upgrade the system memory as needed.  The computer will be eight years old in early 2014 and, with Windows 7 installed on it, my mother uses it for her computing needs.
In 2011, I decided to make the leap over to the Apple world and invest in a MacBook Pro — which, at over $1,500, was a considerable investment.  What really pushed me to the land of Cupertino was the longevity of their notebook batteries.  A colleague of mine at ASU received as a high-school graduation present a MacBook and, at 5 years in, that battery was still holding as much of a charge as it did when she received it.  My Dell notebook (the same one I talked about above) was about to need its third battery in six years.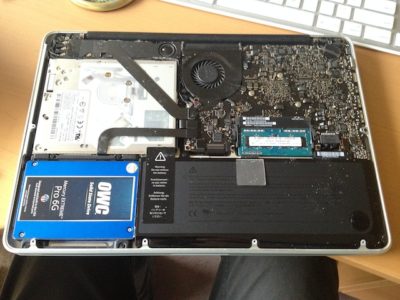 Fast forward to today: the penultimate day in 2013.  I've just replaced the original platter-style hard drive in my MacBook Pro with a solid-state drive and about to replace the battery in the machine.  I'm thankful to the crew at iFixit for sharing tips on how to make the battery user-serviceable and for selling batteries.  In the process, though, I've been scratching my head.  I've noticed that the screws holding in the battery aren't your normal Phillips-head screws but are, instead, tri-wing screws.  Unless you have a computer screwdriver kit (and I do!), you'll have to head off to the Apple Genius Bar to get them to install a new battery for you.  Nope; no, thank you.  My MacBook is out of warranty so I'm on my own.
In the process of thinking about this, I'm thinking about how user-repairable computers and other electronic gizmos are.  The worst culprit in this is Apple, despite how they claim their computers are environmentally friendly.  In the historic preservation world of the built environment, we say that "the greenest building is the one that's already there."  We can take that phrase and shift it to technology: "The greenest computer is the one that's already there."  I will refuse to purchase (or authorize the purchase of) the new MacBook Pros with the high-resolution "retina" displays because of the lack of user-serviceable parts.  A look at these MacBooks shows that if a component breaks down, you're stuck with having to get a brand new machine.
That's silly and irresponsible.  Why should I need to purchase or get a new machine just because a hard drive — a part that has been user-replaceable for many years — stops working?  Or if I choose to upgrade the memory?  Or if I need to replace the battery?  I get Apple's philosophy of having dedicated places to fix their equipment and catering to users with limited IT resources.  But what about those places that have IT departments and oversee a fleet of hundreds of Apple computers?
And then there's the software side of things.  I was an early adopter of the iPad.  It worked great until I received the third generation iPad (my father now has my original iPad).  Apple made the decision to say that iOS 5 will be the last version of iOS that's supported on the original iPad.  Was it a performance thing?  My reading of specifications show that the original iPad and the second-generation iPad are really close together in specification; however, the second-generation iPad supports iOS 7.
I get that my viewpoints are certainly in the minority of technology users and that there's a business to be had in selling computers.  I don't look at a computer as something that I'll use for a couple years before I upgrade it; I see it as something I'll use (and possibly abuse) until I have a technological reason to need to upgrade.  I'll be that person with the decade-old MacBook out in the wild.  And I'll be OK with that.